Improved sanitation facilities paves way for living in a healthy environment.
Clean toilets in schools ensures the health of the children and motivates them to attend school regularly.
In present days, visiting a toilet in school is a distasteful experience for the students. The infrastructure is mandatory in functional schools as it involves the future of many children pursuing their education. Many parents deny enrolling their children in government schools because of poor infrastructure facilities and lack of clean environment which leads to directly impacting the children's health.
It's high time that everyone should understand the importance and need of clean and functional toilets with good water facilities in the community. This has to be implemented in each and every school in the country which motivates parents to send their children to schools.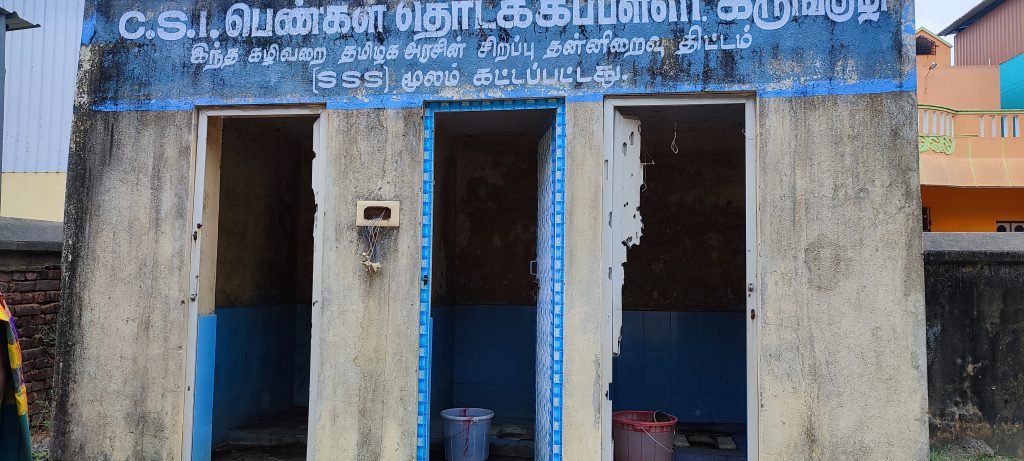 CSI Primary School for Girls Toilet at Karunguzhi, Chengalpattu district, Tamil Nādu.
This is current status of a school sanitation facility in Karunguzhi, Chengalpattu district. This sadly reveals the condition of the children studying in this unhygienic environment.
In most of the government schools, the scenario is getting worse. Dropouts among girl children are increasing. To tackle this existing situation, toilets in schools should be examined regularly and damaged ones should be renovated and the new ones should be constructed in case of unavailability. Sanitary napkins vending machines should be installed. This will increase the enrolment of girl children.
All the students should be given awareness about the importance of sanitation and in maintaining the clean toilets in their home as well as in school for a safer environment.